Sales Please call 888-302-6621 for availability. We can ship anywhere in the continental U.S.
EQUIPMENT IN STOCK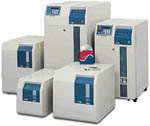 Powerware / APC – many models new and used in stock.
Accratech
Surge overload capacity of 200 percent ;UL 2601, UL 544, cUL 1778 1.5 – 8k va models – 96% efficiency.
More Info click here.
The equipment listed is subject to prior sale. If you are interested in an item, please contact us as soon as possible to purchase. We can place items on hold with a deposit for 24 hour periods. If we do not hear from you after the 24 hours, the item will be placed back in stock. Your refund will be returned to you (4-6 weeks). Deposits will be applied to purchase cost unless otherwise advised.
REFURBISHED EQUIPMENT
Because the units are reconditioned, some units may exhibit scratches on the outer covers. However these units offer exceptional value.
BATTERIES & BATTERY PACK
Call or email us for a quote.
SPARE PARTS
We have inventory for many makes and models Call or email us for more information.
PERIPHERAL EQUIPMENT
Rack Mounts, Cabinets etc. Please contact us if you are looking for any specific items.
WARRANTY
We stand 100% behind all our service and equipment. We strive to ensure the highest levels of quality control and operation of the equipment prior to leaving our facility. All reconditioned units are equipped with new batteries and come with a 90 day warranty. Should a problem occur within the 90 day period, North Shore Power Electronics, LLC will either: 1) repair the unit, or 2) replace it with a similar or equal model. If you experience a problem past the 90 day period, we will do our best to work with you resolve the issue in a mutual and equitable manner.
REFERRALS UPON REQUEST
If you would like to hear what our customers have to say about us, please let us know and we will be glad to furnish referrals for you.
If you have any questions or comments please email us at service@northshorepower.com